Laptops featuring the new RTX 4000 dGPUs from Nvidia are expected to see availability in just a few weeks. According to a recent ITHome report, some online retailers will be allowing pre-orders beginning with February 1st, but the laptops will be shipped at a later date. This is now confirmed by U.S. retailer Microcenter with its listings for MSI's 2023 gaming laptops, which also include pricing information. The ITHome report mentions that Nvidia is looking to set an MSRP of US$999 for laptops featuring the RTX 4050 dGPU, but the Microcenter listing shows higher prices, unfortunately.
MSI's top-of-the-line Titan GT77HX model with Intel i9-13980HX processor, RTX 4090 dGPU and a 17.3-inch 4K 144 Hz Mini-LED display is listed at US$4,699.99. A similar configuration with only a 1440p 240 Hz screen and no additional upgrade features is offered by the Raider GE78HX model, which is listed at US$3,999.99. There is also a Raider model with RTX 4080 dGPU and slightly slower DDR5 memory for US$3,299.99. All three models will see availability on February 8.
The mid-range models with RTX 4000 dGPUs are expected to ship on February 22. MSI's Pulse 15 with i7-13700H and RTX 4070 will cost US$1,699.99, while the version with RTX 4060 is listed at US$1499.99. MSI's more affordable Katana laptops come with two configurations: i7-13620H + RTX 4050 or i7-12650H + RTX 4060. MSI somehow balanced the specs so they both cost US$1,199.99.
Sub-US$1,000 RTX 4050 configurations are still possible, but laptop OEMs will most likely throw in Intel Gen 13 or even Gen 12 i5 processors in the mix.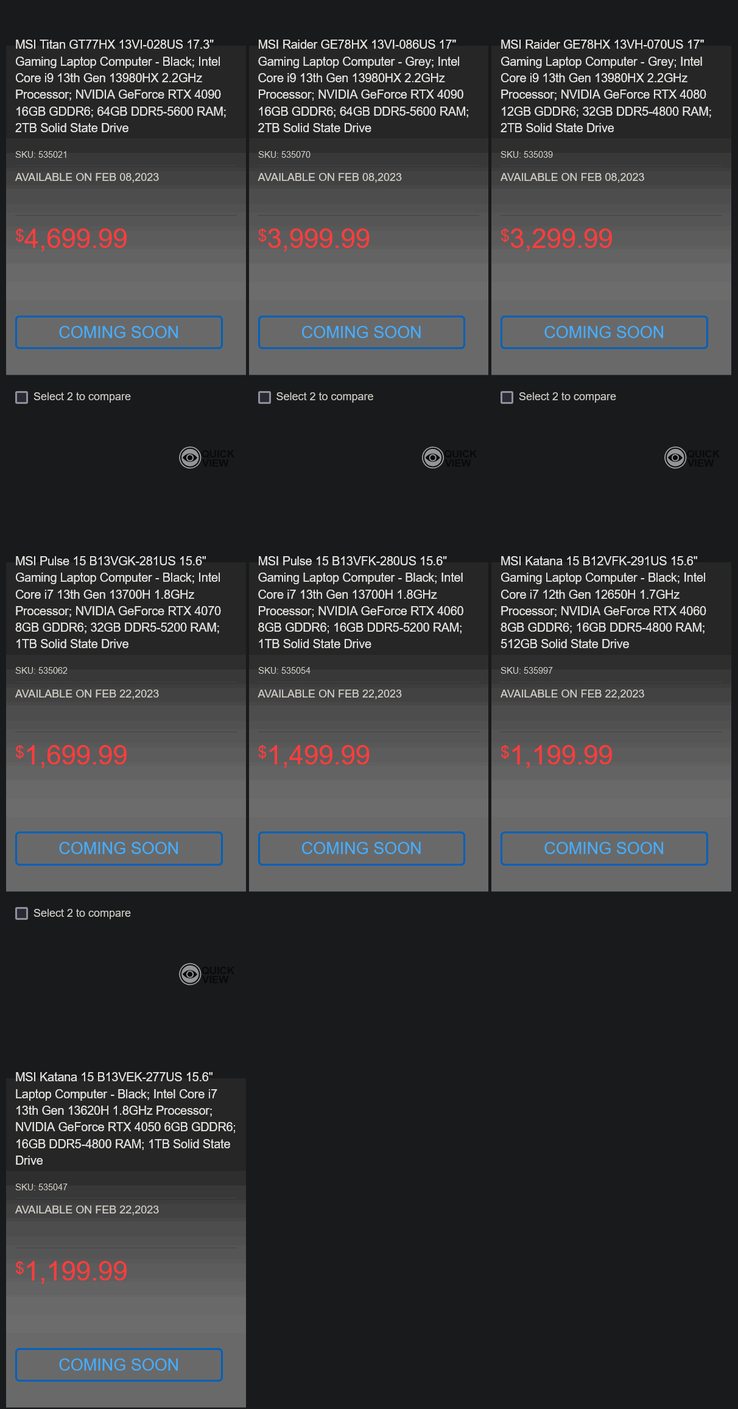 I first stepped into the wondrous IT&C world when I was around seven years old. I was instantly fascinated by computerized graphics, whether they were from games or 3D applications like 3D Max. I'm also an avid reader of science fiction, an astrophysics aficionado, and a crypto geek. I started writing PC-related articles for Softpedia and a few blogs back in 2006. I joined the Notebookcheck team in the summer of 2017 and am currently a senior tech writer mostly covering processor, GPU, and laptop news.