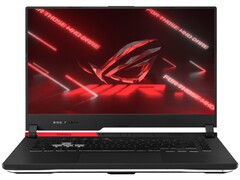 The holidays are almost here, which means that the time to buy Christmas gifts is slowly but surely running out. However, gamers who are in dire need of an upgrade can still benefit from some intriguing gaming laptop deals, one of which has now brought a sought-after all-AMD configuration of the Asus ROG Strix G15 down to its most compelling sale price yet.
Once again, the reputable US retailer Best Buy is offering the Asus ROG Strix G15 configuration with the AMD Ryzen 9 5980HX octa-core processor and the fast AMD Radeon RX 6800M with 12GB of GDDR6 VRAM and a decent TGP of 145 watts for just US$1,099 including free shipping or store pickup. This 15-inch machine is further equipped with 16GB of DDR4 memory, a 512GB SSD and a 165Hz QHD display that can reach a peak brightness of up to 300 nits. Most notably, this gaming laptop deal also matches a very popular sale from early November, which offered the lowest price ever for this particular configuration of the Asus ROG Strix G15.
In our comprehensive review of a different model variant with the quicker 300Hz display, we praised this notebook for its above-average battery life and decent input devices, but we also enjoyed the very good build quality as well as the high overall performance. However, our version of the Asus ROG Strix G15 also came with fairly slow RAM modules, and the missing Thunderbolt 4 port could be a deal breaker for some prospective buyers. Nevertheless, this is a well-performing 15-inch gaming laptop, which delivers a lot of bang for the buck thanks to its steeply discounted price of just US$1,099.
Purchase the Asus ROG Strix G15 Advantage Edition on sale at Best Buy
Disclaimer: Notebookcheck is not responsible for price changes carried out by retailers. The discounted price or deal mentioned in this item was available at the time of writing and may be subject to time restrictions and/or limited unit availability.

My fascination for technology goes back a long way to the Pentium II era. Modding, overclocking and treasuring computer hardware has since become an integral part of my life. As a student, I further developed a keen interest in mobile technologies that can make the stressful college life so much easier. After I fell in love with the creation of digital content while working in a marketing position, I now scour the web to bring you the most exciting topics in the world of tech. Outside the office, I'm particularly passionate about motorsports and mountain biking.