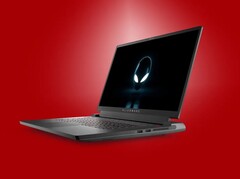 Last month, we were reporting on the first Intel i9-13900HX benchmark leaks that hinted at an 18-inch Razer Blade laptop. That would undoubtedly be the first 18-incher from Razer, but this particular size is certainly nothing new for Alienware. Dell's gaming hardware division experimented with the 18-inch form-factor in the first 5 years of the previous decade, when it used to cram dual GPU configurations in rather thick and heavy chassis. The Alienware 18-series suddenly vanished after 2015, with SLI GPU configurations falling from favor and external GPU boxes becoming more appealing. However, it looks like the 18-inch flagships will be back in 2023, as Dell recently teased their return with a video tweet.
The teaser video mentions a "big and powerful" laptop that is sure to "leave a mark." Will we also see the return of the "signature" thick chassis? Most likely not. Word on the street is that the Intel i9-13900HX mobile processors require larger cooling systems, and thus an 18-inch chassis would make more sense, but this does not mean that the new models would be as thick as the 2015 ones. The expanded internal estate could maybe bring back the quad-drive storage solutions, as well.
Initial rumors for the RTX 4000 mobile GPUs do not mention any SLI models, so we can exclude this aspect, too. The GPUs are already powerful enough to act as desktop replacements anyway. What we really hope to see on an enthusiast-level device like this is an advanced 18.4-inch screen with miniLEDs or OLEDs, hopefully with a high refresh rate of 165 – 240 Hz. Of course, such an 18-inch configuration would not launch for less than US$3000.
Buy the Dell Alienware M17 R5 with AMD Ryzen 9 6900HX APU and Nvidia RTX 3070 Ti dGPU on Amazon

I first stepped into the wondrous IT&C world when I was around seven years old. I was instantly fascinated by computerized graphics, whether they were from games or 3D applications like 3D Max. I'm also an avid reader of science fiction, an astrophysics aficionado, and a crypto geek. I started writing PC-related articles for Softpedia and a few blogs back in 2006. I joined the Notebookcheck team in the summer of 2017 and am currently a senior tech writer mostly covering processor, GPU, and laptop news.