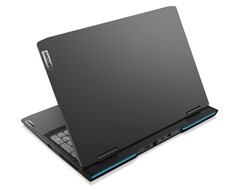 US$1,000 is a psychologically important price threshold that many prospective gaming laptop buyers with a limited budget do not want to exceed. Consequently, this excluded basically all brand-new RTX 4000-powered laptops which have recently hit the market at sky-high prices, but a new deal for the RTX 4050 model of the Lenovo IdeaPad Gaming 3 has now changed this unfortunate situation for the better.
A few weeks after the 2023 Lenovo IdeaPad Gaming 3 configuration with the fast AMD Ryzen 7 7735HS and the Nvidia GeForce RTX 4050 dGPU has received its first notable discount, the gaming laptop's price has now dropped even further. Specifically, Antonline is now selling this 15-inch gaming machine, which also comes with 16GB of DDR5 memory, a 512GB SSD and 120Hz FHD display, for US$999 including free shipping on eBay. No coupon code is needed in order to take advantage of this deal for the Lenovo IdeaPad Gaming 3.
Gamers who are interested in the Lenovo IdeaPad Gaming 3 should be aware of the fact that this gaming laptop features a pretty basic IPS display with a peak brightness of 250 nits and 45% coverage of the NTSC color space. Furthermore, some 15-inch models from the previous model year have received much larger discounts and undeniably offer a better price-performance ratio. However, gamers who definitely want to try out one of the latest GPU and CPU pairing in the form of the Ryzen 7 7735HS and the RTX 4050 may want to take advantage of this deal.
Buy the 2023 Lenovo IdeaPad Gaming 3 on sale for US$999 at eBay
Disclaimer: Notebookcheck is not responsible for price changes carried out by retailers. The discounted price or deal mentioned in this item was available at the time of writing and may be subject to time restrictions and/or limited unit availability.

My fascination for technology goes back a long way to the Pentium II era. Modding, overclocking and treasuring computer hardware has since become an integral part of my life. As a student, I further developed a keen interest in mobile technologies that can make the stressful college life so much easier. After I fell in love with the creation of digital content while working in a marketing position, I now scour the web to bring you the most exciting topics in the world of tech. Outside the office, I'm particularly passionate about motorsports and mountain biking.